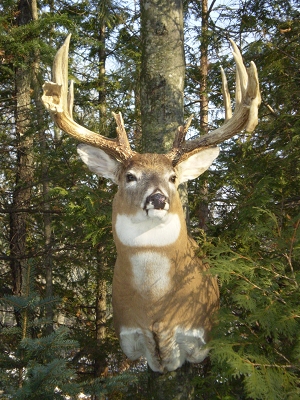 Oak Ridge Taxidermy is an award winning, professional wildlife art studio in beautiful northeast Wisconsin. We are located less than an hour north of Green Bay, Wisconsin in the tri-city area of Marinette and Peshtigo, Wisconsin and Menominee, Michigan. Oconto, Coleman, and Pound are all within a 30 minute drive.
Living on the border of Michiganís Upper Peninsula, or U.P. and near the bay of Green Bay, I have had the opportunity to handle a large variety of species from big game to fish to birds and gain the necessary experience needed to do exceptional work on a wide variety of species. An early interest in more traditional art forms also helped to develop an eye for detail that at has served well in my taxidermy career.
Becoming a fully licensed and professionally trained taxidermist was only the beginning. Since 1997, I have kept up to date with the newest and most accurate methods of todayís taxidermy. Using only the finest materials and a top quality tan guarantees a proper foundation. Paying meticulous attention to details throughout the mounting process brings out the natural beauty inherent in every animal, beauty that you will be proud to display in your home or office for many years to come. My goal is for you to be able to remember that special hunt or fishing trip each time you look at your personal piece of wildlife art.
In addition to high quality taxidermy, we also offer various types of custom artwork. Jessica does wonderful paintings and drawings and can even do a personal painting of your favorite pet. Also available is custom scrimshaw work done on antler or bone and even stone pendants and leather bracelets for that special lady. Browse through our custom art gallery page to see some examples and feel free to contact us with any unique ideas you may have.
So whatever your interest, Jessica and I would like to invite you to contact us or visit our studio and let us create for you the best in natural art.
Dan Parker